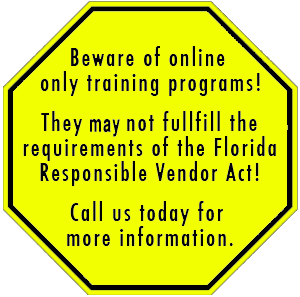 RCS Training provides Responsible Vendor Training for managers and employees that benefits the business by:
1) educating servers and sellers on the proper and legal manner of serving alcohol and
2) protecting your investment in your alcohol license.

The potential for an alcoholic beverage violation or an alcohol-related lawsuit is tremendous, and failing to have a comprehensive and ongoing alcohol service training program for managers and employees increases the risk that a violation will occur. It also can show a lack of due diligence when defending a beverage alcohol violation or lawsuit. The responsible service of alcohol enhances the guest's experience which reflects positively on the business. In addition, Florida's Responsible Vendor Act (F.S. 561.701-706) provides significant legal benefits for those alcohol licensees who comply with its requirements. RCS Training provides comprehensive and personalized service, including the implementation and maintenance of its Responsible Vendor Training Program specifically created to meet each of the requirements of the Florida Responsible Vendor Act. This program is administered at your business location and at times convenient to you, the business operator.
Benefits of Becoming a Qualified Responsible Vendor for Alcohol:
* Mitigation/ reduction of fines and penalties for certain alcohol violations
* Affirmative defense in the event of an alcohol-related lawsuit
* Decreased overall risk of a violation or lawsuit
* Improved employee performance
* Establishes due diligence in the event of a lawsuit
* Reduces insurance premiums/costs
* Promotes positive public image
On-Premise Training
Would you like to learn more about the RCS Training Responsible Vendor Program? We can help! A local RCS Training Regional Manager can answer your questions and tell you about our Responsible Vendor Program. Complete  this questionnaire or call us at 800-537-9863.