Technology advancements, information overload, and lack of training result in staff who are overloaded, overwhelmed, unprepared, and under-skilled. These deficiencies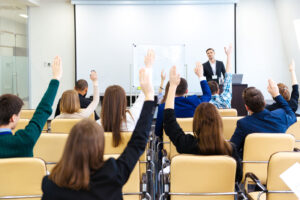 lead to wasted time and resources and can contribute to complacency. We empower staff with expertise to improve performance and increase efficiency and effectiveness, so your staff and business excel to the next level. We offer a unique, proven approach to staff education and training. We conduct professional development workshops from a "manage up" perspective. Rather than telling participants what they should do, we guide them through a process to set attainable goals, identify steps to reach those goals, recognize behaviors that hinder progress, and overcome fears that cause failure. 

Click here for professional development topics.
Our clients
Admin Pro Forum
Administrative Professionals Conference
American Society of Administrative Professionals
Business & Professional Women/Florida
Business Management Daily
Cantina La Veinte Restaurant
Charlotte County Schools Food & Nutrition Management
City of Tallahassee
Columbia Restaurant Group
Diversified Communications
Flea Market of Tallahassee
Florida A&M University
Florida Allergy, Asthma & Immunology Society, Inc.
Florida Association of Inspectors General
Florida Commission on Offender Review
Florida Crime Prevention Association
Florida Criminal Justice Executive Institute
Florida Department of Agriculture
Florida Department of Children & Families
Florida Department of Corrections
Florida Department of Law Enforcement
Florida Park Service
Florida Sheriffs Association
Florida School Nutrition Association
Florida State University
Hillsborough County Schools Food & Nutrition Management
Holiday Inn Westshore Tampa
Hyatt Regency Miami
Kids Incorporated
Lee County Schools Food & Nutrition Management
Leon County Human Resources Office
Leon County Sheriff's Office
Marion Flea Market
Miami-Dade County Schools Food & Nutrition Management
Missouri Hospital Association
National Association of Commissions for Women
National Rural Electric Cooperative Association
National Science Foundation
Pasco County Schools Food & Nutrition Management
Pinellas County Schools Food & Nutrition Management
St. Lucie County Schools Food & Nutrition Management
Tallahassee Police Department
Texas Electric Cooperatives
The Office Professional
US Department of Energy
Women's Conference of Florida